RCWIH BioBank Specimen Archive
The RCWIH BioBank can support retrospective studies and accelerate research progress by providing investigators access to the BioBank Specimen Archive. Our developing biorepository currently contains more than 9,000 perinatal samples which are available in several formats suitable for a wide variety of research applications. While, we strive to obtain the highest quality specimens and patient information possible given the clinical care setting, users should be aware that samples and clinical information provided by the RCWIH BioBank are provided 'as is' without warranty with regard to their fitness for a particular research use.

All tissues are collected by qualified RCWIH BioBank Clinical Research Associates in attendance at the time of delivery. Tissues are processed following strict Standard Operating Procedures* (
available here
), and either frozen or transferred to fixative within 30 minutes of delivery. Specimens are fully anonymized prior to distribution and labeled only with sample IDs which are linked to a unique Subject ID and
clinical profile.
* to view a slide presentation that can be used with the BioBank SOP for training purposes
click here
Placental Tissue
Placental tissue biopsies (1.5 x 1.5 cm cores through the full thickness of the placenta, excluding chorionic plate) are collected from a site within each quadrant, avoiding areas with obvious evidence of thrombosis or other abnormalities when possible. Cores are rinsed briefly in chilled PBS and further dissected to generate 0.5 x 0.5 x 0.5 cm pieces. Pooled samples containing one piece of tissue from each of the four cores are generated and available in the following formats:
Snap-frozen in liquid nitrogen (standard sample weight is 1-2 grams)

Frozen in Optimal Cutting Temperature (OCT) embedding medium (suitable for IHC on frozen sections)

Paraformaldehyde-fixed, paraffin embedded (PFPE) tissue slides (tissues are immersion fixed in 4% neutral-buffered paraformaldehyde for 24h at room temperature and prepared for embedding in IHC-grade paraffin)
Umbilical Cord Tissue and Fetal Membranes
Umbilical cord tissue (frozen or PFPE) and fetal membranes (prepared as a PFPE membrane roll) are also available for all cases.
To view definitions of the clinical conditions of interest, please click on a condition from the list below. .
Other Clinical Condition
s:
To protect patient confidentiality all clinical information collected for RCWIH BioBank participants is fully de-identified and provided only to investigators approved by the Mount Sinai Hospital REB. Every effort is made to prepare a complete clinical profile for each participant, however completeness is subject to data availability and whether certain assessments were clinically indicated, requested by patients, and/or performed by the Mount Sinai Hospital clinical care team.
More information on complete clinical profiles for RCWIH BioBank participants can be found here, and consist of the following:
Patient demographics and physical parameters

(age, ethnicity, weight, height, BMI)

Obstetrical history

Medical history

(including

medications administered during pregnancy)

Pregnancy history

(LMP, EDD, mode of conception, signs/symptoms reported, and any complications for the current pregnancy)

Labour details

(if applicable)

Delivery outcome

(gestational age, birth weight, gender, neonatal assessments, placental weight)

Clinical laboratory findings

(blood work - including First Trimester Screening and Integrated Pregnancy Screening results, urinalysis, microbiological swabs)

Ultrasound evaluations

(Doppler analyses, estimated fetal biophysical parameters and anatomy assessments)

Blood pressure measurements

Pathological evaluation

(gross and microscopic features of the placenta determined following a full evaluation by qualified perinatal pathologists)

Digital images

(maternal and fetal surfaces of the placenta)
For more information about sample availability and the RCWIH BioBank Specimen Archive please contact our office.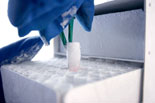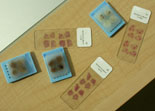 Placenta collected at 31 weeks gestation following a pregnancy complicated by intrauterine growth restriction and preeclampsia (a 3ml syringe is shown for reference).